THERMAL SCANNER WITH FACE RECOGNITION BIOMETRICS
In light of the current COVID-19 pandemic, ThermalFace is our current hotseller. State of the art thermal scanner with accurate all-in-one temperature scanning, SafeEntry, mask detection and facial recognition in a single package!
show features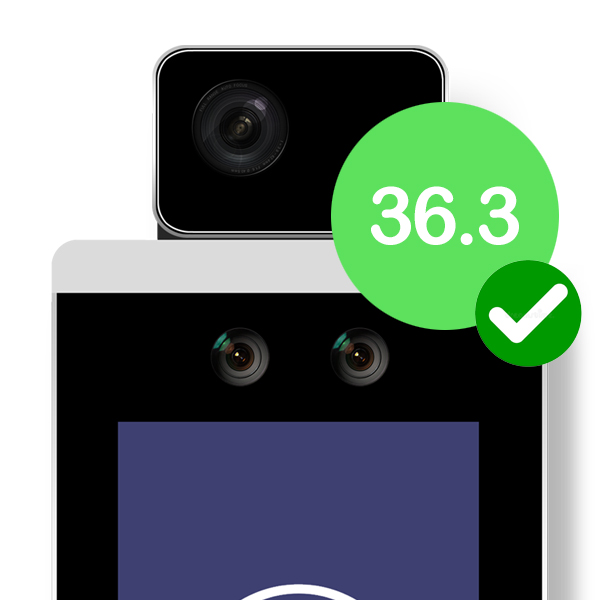 HSA CERTIFIED THERMAL SCANNER
ThermalFace has an in-built temperature measurement device, which is capable of measuring up to an accurate ±0.3°C difference, and is a Singapore Health Science Authority (HSA) Class A certified product.
TEMPERATURE SENSITIVE
With built-in cutting-edge Vanadium Oxide uncooled detectors, ThermalFace is able to measure and record individual's temperature alongside their attendance information. It has the additional option to operate as a pure temperature measurement instrument as well, for fast measurement for large groups of people.
Intercorp is an approved HSA Class A medical device vendor by Singapore Health Science Authority.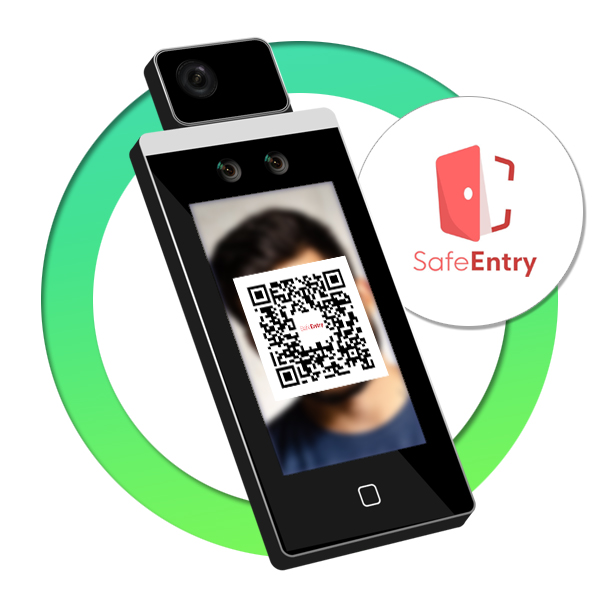 INTEGRATED TO SAFEENTRY
ThermalFace is integrated to Singapore's official governmental contact-tracing platform SafeEntry, to ensure all employees and visitors are properly recorded and traced under governmental regulations.
You can either integrate the SafeEntry Gateway (compatible for TraceTogether tokens and apps) to our devices or upload your venues' unique SafeEntry QR codes to ThermalFace to be shown after user have authenticated, to remind them to check-in or check-out from your premises. 
MASK DETECTION, REQUIREMENT & REMINDER
Even when individuals are wearing masks, ThermalFace is capable of recognizing them. Mask wearing can be set as a mandatory requirement when entering the premises, or it can be set as a reminder should individuals forget to wear one.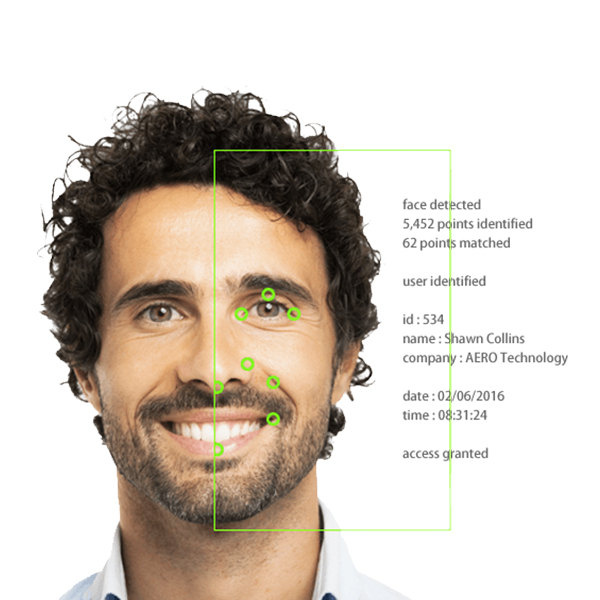 FLEXIBLE, MODERN DESIGN
ThermalFace series scanners are our latest range of biometrics devices, released in 2020, that leverages on cutting-edge image facial recognition technologies. Beautifully designed with a large modern touch screen, ThermalFace is suitable for deployment in any types of workplaces.  
One of its key features is that employees no longer have to be registered in front of the device anymore. Simply upload a photo (or several) of the employee, and it would be synced automatically to the device for facial recognition, saving tremendous amount of registration time and coordination efforts!
HIGH 99.9% ACCURACY RATE
ThermalFace scanners have a tested 99.9% facial recognition accuracy rate, which has been widely deployed across many types of industries, from corporate offices, manufacturing plants to construction worksites.
BUILT-IN ACCESS CONTROLLER
ThermalFace scanners have an in-built access controller, which allows it to control door access systems, such as EM locks and turnstiles. With a local storage, ThermalFace scanners are able to operate even when Internet access is disrupted, and will synchronize back with the servers when network is resumed.
ThermalFace 6000
Facial Recognition
Dual Lens Facial Recognition
User Capacity (Facial Capacity)
6,000
Record Capacity
100,000
Temperature Range
30 °C to 45 °C
accuracy: ± 0.3 °C
Authentication Speed
< 1s
False Acceptance Rate (FAR)
< 0.001%
False Rejection Rate (FRR)
< 1%
Mask Detection
Reminder to wear alert with pass/fail authentication
Display
7" TFT
Device Size
117mm (W) x 285mm (H) x 35mm (D)
Operational Temperature
0 - 50°C
Power
12V DC / 2A
Access Control
Yes
Your All-In-One Device
ThermalFace can be integrated with SafeEntry, to ensure all your employees, customers and visitors are properly screened and checked into SafeEntry, through a single system.
 

 

 

SafeEntry (TraceTogether token & mobile app)
EXPLORE OUR BAS ECOSYSTEM
Manage your workplace and workforce effectively and seamlessly with Intercorp's cloud suite of solutions today!

Cloud access control system for peace-of-mind high security door access through contactless facial recognition technologies.

Cloud attendance system for detailed employee timesheets, even for multiple locations for time and attendance tracking.

Cloud productivity system to track productivity hours and indices of workers for measurement and analysis.

Cloud payroll system for easy calculations and management of employees' salaries, allowances and claims.

Cloud visitor management system for e-invitation, pre-registration, approval and management of visitors.


Cloud mobile app (iOS/Android) for employees' self services, such as mobile check-ins/outs, e-claims, e-leave and personal information management.
ThermalFace have undergone extensive research and development and rigorous testing and benchmarking, to achieve market first accuracy rates of 99.9%. Its algorithms and firmware are upgraded with improvements on a constant basis as well.
More than 260,000 users in Singapore use Intercorp's biometric devices on a daily basis, proving our devices' reliability and accuracy.
ThermalFace can measure up to ±0.3°C variance, up to a distance of 1m, detecting even minor increment and abnormalities in individuals' temperature measurements, ensuring all employees' well-being at your workplace.
It is certified as a Class A temperature device by Singapore's HSA (Health Science Authority).
No, ThermalFace has the capability to detect living subjects hence it would not even register the 3D mould as an authentication target. It's dual 3D cameras recognise dimensions as well, therefore a photo would not be registered as a living subject either.
ThermalFace is designed to have standalone capabilities, with internal harddisk capacity for offline storage purposes. When your network is down, the scanners would still work operationally without any disruptions and all transactions would be recorded in its offline storage.
When your network is restored, ThermalFace would 'push' the transactions back to our cloud servers for data processing, hence ensuring no data loss.
When a user step up to ThermalFace, it would take less than a second (0.3s to be exact) for the scanner to authenticate the user. In a real-world environment, ThermalFace can easily authenticate up to 20 users per minute and that works out to an average of about 3 seconds per user.
We provide a full year warranty on all our hardware, covering all manufacturers' defects, excluding intentional damage as well as wear and tear.
Rest assured that our rates of ThermalFace is highly competitive and affordable.
Please feel free to drop us a Sale Enquiry and our helpful sales teams will get back to you as soon as possible!